---
Sport Jujutsu & Sport Chanbara Seminar,
Sabac, April 17th 2005
Milan Vujasin sensei, member of Serbian Budo Council, with his "Panther" jujutsu club in Sabac, was the host of a small seminar for Sport Jujutsu and Sports Chanbara. Ivica Zdravkovic and Slobodan Saric sensei from Shinbukan Dojo held this seminar on behalf of Serbian Sport Chanbara Association, working under Serbian Budo Council. Guest-club was from Vrsac, under Srdjan Ratkovic sensei. Also, Bosko Vidovic sensei from Bosnia - Brcko District and Predrag Sabados sensei from Gunja - Croatia were present. They were observing the seminar and consulted with rest of instructors on future chanbara, sport kenjutsu and sport jujutsu activities. Seminar was generally a success in many aspects. On first part of the seminar, all students were introduced with basic facts on Jujutsu Kumite, as performed in JJIF and in Jujutsu Mix Kumite under Serbian Budo Council. Also, the Duo System of JJIF and Jujutsu Kata of Serbian Budo Council were analyzed.
On second part of the seminar, all were introduced to rules of Sport Chanbara under International Sports Chanbara Association. After short sparring demo in Choken Ryote, Kodachi and Choken Iai disciplines by Dr. Zdravkovic and Saric sensei, all student were offered to try it out. It was a signal to 30 of them to rush towards the tatami and to literary fight over who's gonna be the first to fight with soft swords of chanbara. So, instantly, two tournaments were organized, and soon, 16 youngest ones were competing in Kodachi, and 17 of older ones competed in Choken Ryote.
After this seminar, it is to expect new chanbara clubs, sections and associations in Serbia, Bosnia and Croatia. Dr. Zdravkovic has decided to open a semi-professional Chanbara school, and also to include Sport Chanbara basics to Shinbukan Kenjutsu syllabus.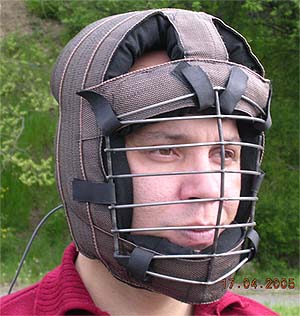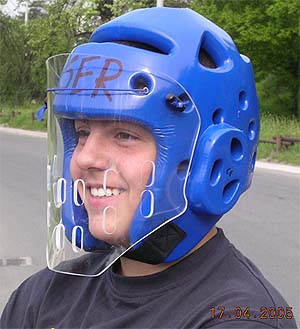 Serbian Sports Chanbara Association - improvised headgears.
New series of 100 proper headgears is already in production.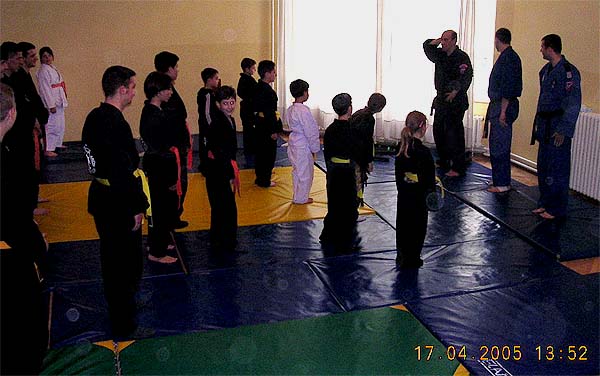 Zdravkovic, Saric and Vujasin sensei with part of seminar participants
Slobodan Saric sensei demonstrating
shikaku and ashi barai on Vladimir Mladenovic, sempai of Shinbukan Dojo Pozarevac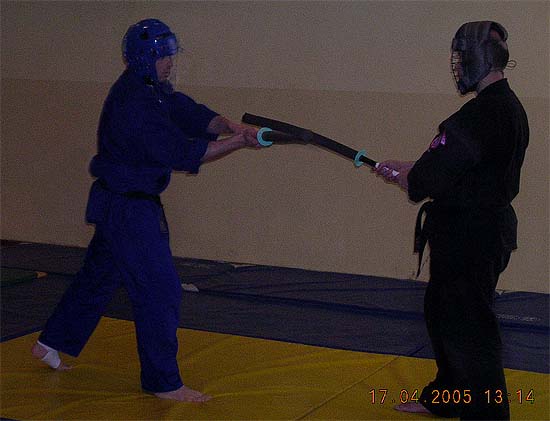 Demonstration of Choken techniques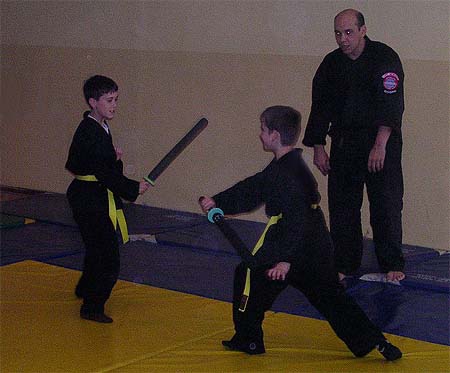 No headgears, but still, kids are courageously fighting with Kodachi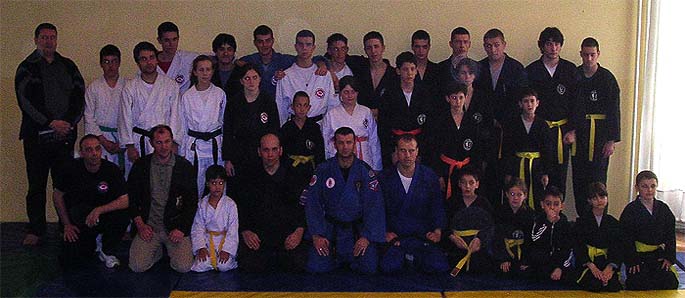 All participants of seminar on the end of the day.
---
End of Page